Many short story collections are published by small, independent publishers and as a result, they often fly below the radar
We are in the Golden Age of Short Stories. More story collections are being published now than ever, and the quality is unsurpassed. In general, major publishers don't love story collections because they don't sell as well as novels. They'll use them to introduce a new writer they've signed, because he/she will come to them with a backlog of stories which can be released while the writer works on their debut novel (which is what the publisher really wants). It's a good way to get new talent under contract while they develop (like signing a young baseball player and assigning him to the minor leagues for a year or two).
But, in many cases today, a short story collection is likely to be published by a small, independent publisher or university press. As a result, they often fly below the radar and rely on reviews and word of mouth to reach potential readers. That is where blogs and social media can play a key role in helping writers and readers connect.
These are six collections that impressed me and deserve a wider audience.
Deceit and Other Possibilities: Stories (Counterpoint Press)
by Vanessa Hua
I first heard of Vanessa Hua when this collection received an Asian/Pacific American Award in Literature and was a finalist for a California Book Award a few years ago. Rave reviews by Gary Shteyngart and Laila Lalami convinced me that Hua was a writer worth knowing. And they were underselling these stories.
Deceit and Other Possibilities is the best short story collection I've read in quite a while. It was originally published by Willow Press in 2016 but was reissued with three new stories by Counterpoint Press last year. These stories concern characters struggling with their immigrant identity and resulting life choices: an elderly immigrant from Chinatown forced to return home after 50 years ("The Older the Ginger"); a Korean-American teen who finds an unusual way to become a student at Stanford in order to satisfy his ambitious parents ("Accepted"); a young Chinese-American celebrity from Hong Kong who returns to Oakland following a sex scandal ("Line, Please"); a Korean-American pastor doing missionary work in East Africa whose intentions are not as good as they seem ("The Deal"); and a Mexican immigrant boy whose parents are torn between the present and a possible future ("What We Have is What We Need").
Hua is a masterful writer. Her stories feature a finely-honed sense of characterization, an ear for realistically quirky dialogue, and a direct, occasionally acerbic tone that doesn't completely hide her sympathy for these very human characters.
Monsters in Appalachia: Stories (Vandalia Press/West Virginia University Press)
By Sheryl Monks
After reading Sheryl Monks' impressive debut collection, Monsters in Appalachia, I feel as though I have walked the mountains and valleys of West Virginia and North Carolina with her characters. The 15 stories here are distinguished by a range of narrative voices that are as undiluted as a bottle of moonshine from the most hidden of hollers. Monks examines the lives of these hard-living and hard-learning people with an unrelenting, knowing stare that sees through the lies they tell each other and themselves.
Monks is concerned with good and evil as it plays out in the lives of the invisible people of Appalachia and similar economically struggling communities. Her stories are rich with biblical allusions from Exodus to Revelation. Desire and temptation are ever present, and salvation is just out of reach. It's hot, humid, and dusty during the day and dark as coal at night. There is an almost claustrophobic intensity to most of these stories, whether the monsters are real or imagined.
According to those who know better than I, Monks accurately depicts the Appalachian dialect, attitudes, and beliefs, and she has created more than a dozen small worlds full of mesmerizing characters and startling conflicts. This is a dark and darkly humorous collection that heralds the arrival of a gifted "new" writer (Monks has been publishing stories for more than a dozen years).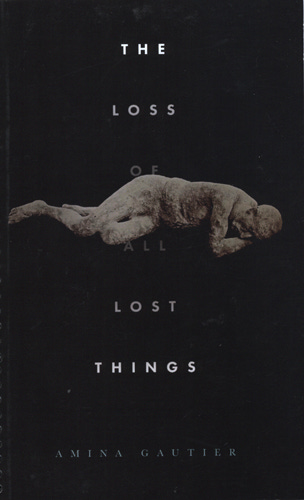 The Loss of All Lost Things: Stories (Elixir Press)
By Amina Gautier
One of the great joys of reading authors with whom one is unfamiliar is discovering a truly distinctive writer whose work pushes all your buttons, intellectually and emotionally. Amina Gautier is the latest writer to make me mutter to myself in amazement as I read her stories. Her debut collection of stories, At-Risk (2012), won the Flannery O'Connor Prize for Short Fiction. The follow-up, 2014's Now We Will Be Happy, won the Prairie Schooner Book Prize in Fiction.
Gautier's third collection, The Loss of All Lost Things, is her best work yet. Here she moves beyond the concerns of her earlier work to the issue of loss in its many forms. Her characters have either suffered a loss, literally lost someone or something, or are at loose ends in figuring out what to do with their lives following a significant and often unexpected event. What so impresses me about these stories is Gautier's ability to plumb the psyche of complex characters with a psychological acuity that will break your heart repeatedly.
The Loss of All Lost Things is a dark and often disturbing collection, but Gautier is such a gifted storyteller, the characters and conflicts so compelling, the telling details so perfectly chosen, that you can't turn away. Amina Gautier is a fearless writer who I am willing to follow anywhere.
The Bird Catcher and Other Stories (Jaded Ibis Press)
By Fayeza Hasanat
I'm always trying to expand the range of my reading, especially the diversity of voices, because I want to learn about unfamiliar people, places, and cultures. It's a big world, and I live in a small patch of it in central California. While I've read fiction from authors who came from or live in India, Sri Lanka, and Pakistan, I don't think I've read anything from Bangladesh. So Fayeza Hasanat's debut collection, The Bird Catcher and Other Stories was something of an introduction to Bangladeshi subject matter and style.
Hasanat is a professor of gender studies and literature of the British Empire and South Asian diaspora at the University of Central Florida, and her expertise is reflected in these stories. A few of the stories combine a traditional South Asian prose style with contemporary concerns. They are essentially fairy tales with a feminist bent. Others address the conflict between Old World and New World, past and present, native and immigrant, on issues like marriage, work, and family relationships. A touch of magical realism appears here and there.
While some of the stories are more persuasive than others, The Bird Catcher and Other Stories is an intriguing introduction to the sensibilities of a writer worth following.
To Lay to Rest Our Ghosts: Stories (Fomite Press)
By Caitlin Hamilton Summie
The latest example of a stellar short story collection from a small press is Caitlin Hamilton Summie's To Lay to Rest Our Ghosts. As the title suggests, Summie's characters are at crossroads of various kinds; they are struggling for emotional independence, attempting to resolve long-standing conflicts (usually familial), and trying to make sense of a complex and confusing world. These are quiet, intimate stories driven by character more than plot, yet they are compelling in both their dramatic tension and often unsettling (but not unsettled) resolution.
Set mostly in rural and urban Minnesota, with detours to and New York City, these stories are probing examinations of the seemingly small, mundane moments that reverberate through our lives. Life-changing decisions or events do not always arrive in the form of violent confrontations or shocking accidents. Sometimes it's as simple as looking at old family photo albums (as in "Patchwork") or failing to show up at your grandfather's deathbed because you just can't bear it (as in "Geographies of the Heart").
To Lay to Rest Our Ghosts can sound depressing in the description, but Summie's empathy for her characters' humanity is so strong, and her prose so lovely, that a palpable warmth emanates from the stories despite their physically frigid settings. I look forward to the publication of her first novel.
The Virginity of Famous Men: Stories (Tortoise Books)
By Christine Sneed
Christine Sneed is an astute observer of contemporary life, as she demonstrated in her debut collection, Portraits of a Few of the People I've Made Cry, and her 2015 novel, Paris, He Said, which dissected a complicated May-December relationship. In her latest collection, she probes the contrast between expectation and reality, and the many ways in which we fool ourselves about who we are, what we want, and the choices we make. The characters in these stories are flawed but recognizably human and they earn our compassion. And while Sneed exposes the truth about them, she clearly feels empathy for their all-too-familiar struggles. Small but irrevocable actions occur and lives are changed.
What really stands out in this collection is the range of Sneed's content and style. "The All-New, True CV" shows off her skills in biting social commentary and satire. "The Prettiest Girls" follows a location scout to Mexico, where he encounters an aspiring actress who views him as a ticket to stardom. "Clear Conscience" immerses readers in a family drama centered on a particularly thorny ethical dilemma. The title story revisits the protagonist from Sneed's debut novel, Little Known Facts, as he labors under the weight of his actor father's legend and persona.
Sneed's stories are serious and shaded, as if sketched with charcoal, but they move quickly, highlighted by her realistic dialogue and frequent insights into the human heart.